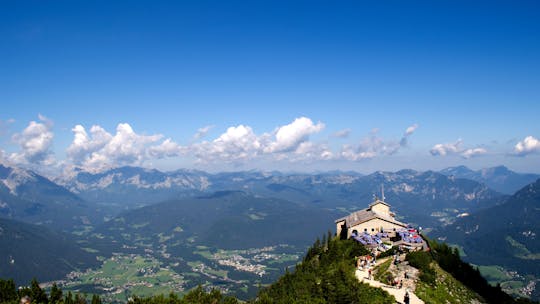 Home to pristine lakes and pine-clad hills buried deep in the Bavarian Alps, Berchtesgaden is one good-looking German town. Visit this mountaintop retreat for epic views across the valley plus the chance to tour of its salt mines and Hitler's hideaway, 'The Eagle's Nest'.Start with a journey through the awe-inspiring alpine countryside, and you'll pass an assortment of chocolate-box villages and fairytale towns nestled in lush green foothills – it promises to be a day of spectacular scenery.One of Germany's highest peaks looms large over Berchtesgaden. But it's not just Mount Watzmann that impresses here – there are spectacular sights to see beneath the surface too. Enjoy free time or avail of optional tours, including a descent into a salt mine with a boat ride on an underground lake and a visit to 'The Eagle's Nest'. Once the mountain retreat of Adolf Hitler, there's a historical tour available or a beer garden serving up cold lager and wow-factor views of the Austrian border.
Duration
more than 8 hours
With a snowy summit scraping the sky, the Grossglockner is one impressive alpine peak. Journey through green pastures and Sound-of-Music-style hills and you'll make the steady climb towards the base of Austria's highest peak – the Grossglockner. Arrive almost 2000m above sea level to enjoy striking views across the landscape. Afterwards, you'll wind your way deeper through High Tauern National Park, Austria's largest, stopping at a café for coffee and cake along the way. You'll eventually reach Ferleiten Wild Animal Park, home to 200 animals that are native to the Alps, for a safari experience.
Duration
more than 8 hours
Local legend has it that Krimml falls has magical healing properties – and there's certainly something rejuvenating about a visit here. Journeying through scenes of snow-capped mountains and you'll head deep into Hohe Tauern National Park. Reaching the foot of Austria's tallest waterfall, the lofty 380m height of Kimml falls will have you constantly looking up in wonder. Hear the roar of the water and the spray on your skin as you see the power of Mother Nature plunge into the pools below. And with various viewing platforms around the falls, you can pick your perfect spot to capture those made-for-Instagram snaps and memories.
Duration
from 4 hours to 8 hours
Popular experiences in Austria - Salzburg and Innsbruck