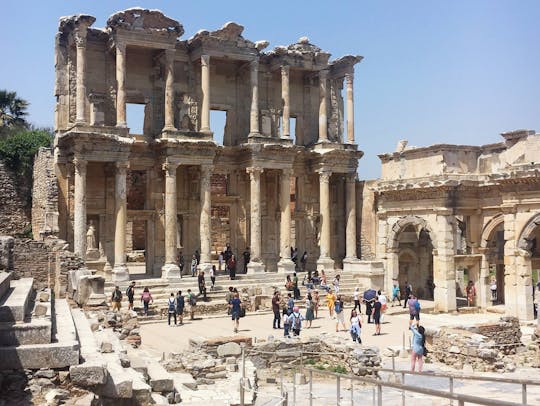 History comes to life in Ephesus. On this private tour, you'll relive the glory days of the Roman Empire as you explore this UNESCO World Heritage Site's monuments. It's so well-preserved that it's easy to imagine the toga-clad crowds that gathered and chattered in its streets 2,000 years ago. Admire the Library of Celsus, Grand Theatre and much more.Let your guide transport you back in time, learning about the living past of Ephesus. Admire the Celsus Library, built with double walls to protect its scrolls from the heat. Peek into houses still decorated with frescoes, and nose around the public baths, brothel and shops. Walk down Marble Street towards the Great Theatre. Dug into a hillside, this spectacular 24,000-seater once rang with the cries of gladiators and sermons of St Paul.After lunch, it's on to the archaeological site where the Temple of Artemis once stood – one of the Seven Wonders of the Ancient World. Finally, a visit to a local ceramics factory ends the day.
Duration
from 2 hours to 4 hours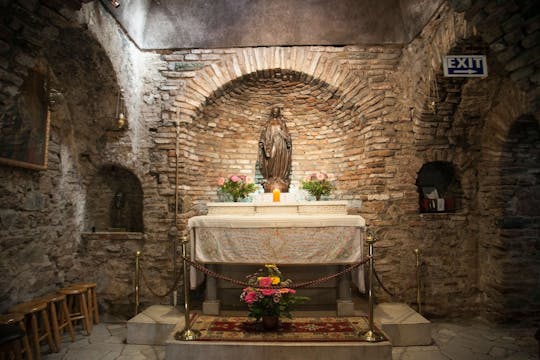 The hills around Kusadasi are home to two of Turkey's most popular historical sites – the ancient city of Ephesus and the House of the Virgin Mary. You'll be whisked through centuries of history at Ephesus, see one of the Seven Wonders of the Ancient World and visit a shrine on Mount Koressos all in one afternoon.Travel into the sun-soaked hills all the way to the House of the Virgin Mary before heading to the ancient city of Ephesus, where a journey through history awaits. Your guide will lead you into and around the sprawling archaeological site and point out its highlights while regaling you with fascinating historic tales.You'll stroll down marble-paved streets where mosaics and frescoes still decorate the walls of ancient Roman houses, gaze up at the Temple of Hadrian and you'll be blown away by the Library of Celsus. The grand finale of the tour comes at the ancient theatre where 25,000 spectators would watch brutal gladiator clashes and performances.
Duration
from 2 hours to 4 hours
Ephesus is one of those places that brings history to life. Crammed with temples, relics and religious statues, you'll walk the marble streets as your guide explains their history. A star attraction is the Insta-perfect Library of Celsus. Strolling between the column-lined avenues, you'll peep into crumpled shops and houses on route to the Grand Theatre – a colossal amphitheatre where St Paul once preached. After the tour, we'll round things off with a visit to a ceramics shop to see how traditional pottery is made and the chance to snap up some souvenirs.
Duration
from 2 hours to 4 hours
Popular experiences in Kusadasi