This full day tour to the occupied northern part of Cyprus takes you to three of the country's most intriguing spots. Your journey into the past starts all the way back in classical times at Salamis. You'll explore its ancient roads and ruined temples as well as the partially restored amphitheatre. After free time for lunch, you'll explore Famagusta. Your guide will show you sights such as the Venetian castle and the Gothic cathedral turned mosque. Before returning to the south, there will be time to gaze at the haunting sight of Varosha, abandoned since the Turkish invasion more than 40 years ago.
Duration
more than 8 hours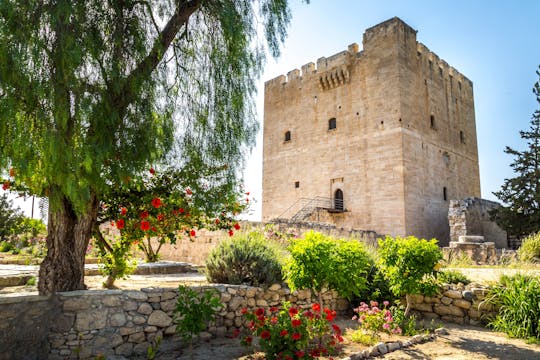 Cyprus is all rolling hills dotted with pretty villages. On this small group tour, you'll see where a legend was born, visit the ruins of Kourion, venture to the village of Omodos and cap off the day with a wine tasting. Eva, one of our local guides, says of this excursion, 'You'll wander through layers of history, culture and mythology, and learn about Aphrodite. The rituals connected with her as well as the plants and seashells associated with her.'You'll dive straight into the past at Aphrodite's Beach to see Petra tou Romiou, a sea stack where, according to legend, love goddess Aphrodite was born. We keep theme ancient at Kourion, one of the most impressive archaeological sites in Cyprus. Visit the Roman baths and amble into the site's centrepiece, the Greco-Roman theatre. Concerts are still held to this day. The 15th-century Kolossi Castle is up next. This Crusader-built fortress is surrounded by blooming plants.Then, we'll head to mountain-fringed Omodos, where you'll have free time to wander around skinny cobbled streets lined with Byzantine buildings. It's Eva's favourite village. She says, 'The charm of the stone houses, the tranquillity and peacefulness. It's as if it has sprung from a fairytale.' You'll enjoy a local lunch in a family-run taverna and drop into a 'kafeneio', where, says Eva, 'locals meet for philosophical discussions, political arguments and a bit of gossip'. Plus, there's a winery tour, where you'll learn all about sweet commandaria wine.
Duration
more than 8 hours
Cyprus is home to many important ancient Greek and Roman archaeological sites. You'll head to Kourion to briefly explore landmarks such as the impressive theatre – dating from the second century BC – and the Agora. En route to Paphos, there's a photo stop at Petra tou Romiou – or Aphrodite's Rock – where, legend has it, Aphrodite emerged from the sea foam. Next, journey on to Ancient Paphos for a guided visit to the legendary Tombs of the Kings, the House of Dionysos and its incredibly well-preserved mosaics. Later, you'll enjoy some free time in Paphos town.
Duration
more than 8 hours
Popular experiences in Limassol