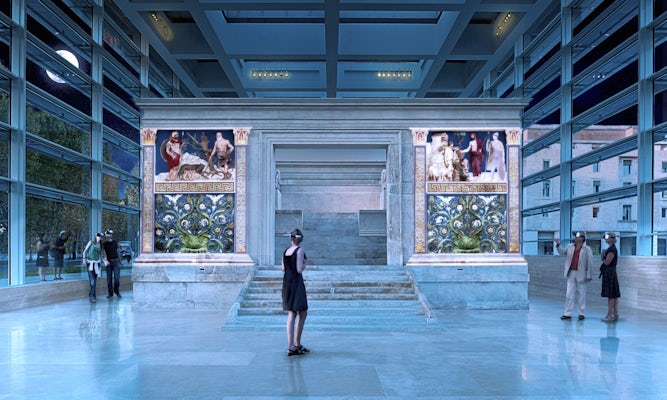 Info rapide
Cosa aspettarsi
Tariffa ridotta
Punto d'incontro
Recensioni
Hai domande?
"L'Ara com'era" tickets
Disponibilità:
16 April 2016 - 31 October 2018
Durata:
15 minutes
È necessario stampare il voucher
Cosa farai
Explore the Ara Pacis as it was in the past, thanks to an augmented reality experience
Participate in one of the ceremonies that the monument used to host
Observe the monument's decorative details in 3D
Buy tickets online to avoid queues at the museum entrance
Cosa aspettarsi
Gets inside the Ara Pacis and participate in one of the rites performed there. "The Ara as it was" is an innovative augmented reality experience that employs special AR visors with built-in cameras, which recognize the three-dimensional bas-reliefs and sculptures.
History and technology meet for a immersing multi-sensory visit of the Ara Pacis, one of the most important masterpieces of Roman art, built between 13 and 9 BC to celebrate the peace established by Augustus in the territories of the empire.
Discover the original appearance and function of the altar and watch the transformation of the Northern Campus Marzio, the area of Rome chosen by Augustus to celebrate his power. Observe the decorative details of the monument: the mythical past of the Urbe comes to life through the color restoration of the Ara Pacis marble.
Take part in the procession that ends at the mausoleum: among augures, sergeants and priests, Augusto appears followed by his family. The solemn procession accompanies the emperor, surrounding and protecting him while performing the sacred rite. Witness the ritual, reconstructed on the basis of various literary sources and ancient sculpture depictions.
Cosa è incluso
Entrance ticket to "L'Ara com'era"
Tariffa ridotta
Reduced: non-resident citizens 6-25 years old, resident citizens living in the metropolitan area of Rome 20-25 years old, state and municipal school teachers with permanent contracts, conventions.
Free of charge: children 0-5 years old, residents on the first Sunday of each month, residents under 18 years old, disabled people and helpers, tourist guides from the EU, journalists with professional card, university teachers and students of the humanities, conventions.
Dove
Museo dell'Ara Pacis
Lungotevere in Augusta - 00100 Roma
Da ricordare
This ticket must be printed and presented at the entrance of the museum
Entrance to the exhibition is not permitted for children under 13 years old
The price breakdown is as follows: Standard price: entrance 11€ + booking fee 1€ + agency commission 1€
Children under 13 are not allowed to use headsets
Free for children under 13 accompanied by an adult
Quando
16 April 2016 - 31 October 2018
Friday and Saturday 7.30pm-11pm
The ticket office closes one hour earlier
Closed: 1 January, 1 May, 25 December
Commissioni di prenotazione
Buone notizie! Non sono applicate commissioni di servizio a questa prenotazione.
Ti potrebbe piacere anche