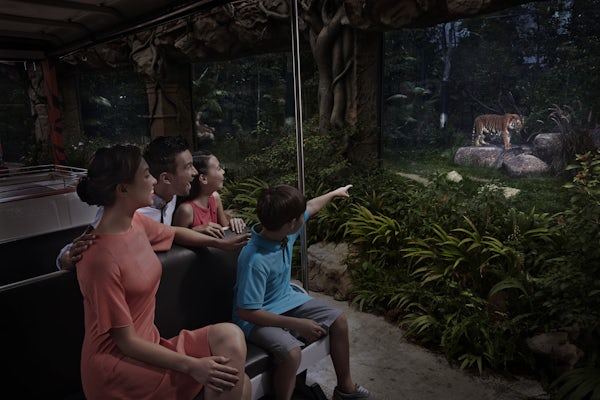 Información básica
Qué te espera
Lugar de encuentro
Opiniones
¿Tienes preguntas?
Night Safari Fixed date Admission with English Tram Ride
Disponibilidad:
See calendar
Duración:
Flexible
Es necesario imprimir el bono / entrada
INSTANT CONFIRMATION
Ventajas
Visit the world's first safari park to see more than 2,500 nocturnal animalsExplore the night safari via an in-house tram rideWatch the two open-air shows with free seating
Qué te espera
The Singapore Night Safari is the world's first safari park, with more than 2,500 nocturnal animals in their natural habitats. You can explore via the in-house tram or just walk with your fellow travellers. Should you prefer the first option, the animals may come close to you, especially the Malayan flying foxes and giant flying squirrels.

From the other side of the glass observatory, view the leopards as they walk along the trail. Continue on to the Wallaby and Fishing Cat trails, two of the other featured venues. The Thumbuakar performance by a talented troupe of tribal warriors should also not be missed with its brilliant stunts and animal tricks.
Incluye
Admission feeTram RideAnimal show
No incluye
Personal expensesTipsTransfer services
Dónde
Importante
Notes:
- Last admission is at 23:15.
- Kindly take note that from 01 September 2017, Night Safari will be implementing non-stop tram operations. As such, trams will no longer be stopping at East Lodge station.
- Tickets cannot be used by Singapore Citizens and/or Singapore Permanent Residents, only valid for use by tourists.

Show schedule:
- Thumbuakar Performance: Daily except on Wednesdays at 19:00, 20:00, and 21:00. The show is also available at 22:00 on Friday, Saturday, and eve of public holidays.
- Creatures of the Night Show: Daily at 19:30, 20:30, and 21:30. The show is also available at 22:30 on Friday, Saturday, and eve of public holidays.
- Please note that from 09 February 2018, the first timing for the Thumbuakar Performance and Creatures of the Night shows will be adjusted permanently to 18:45 and 19:15 respectively.

Show reminders:
- The open-air show is free seating, so seats are not guaranteed.
- It is best to be at the venue at least 15 minutes before your preferred show schedule.
Cargo por reserva
¡Buenas noticias! Esta reserva no tiene ningún cargo adicional.
También puede interesarte
Lo siento, se agotaron las entradas