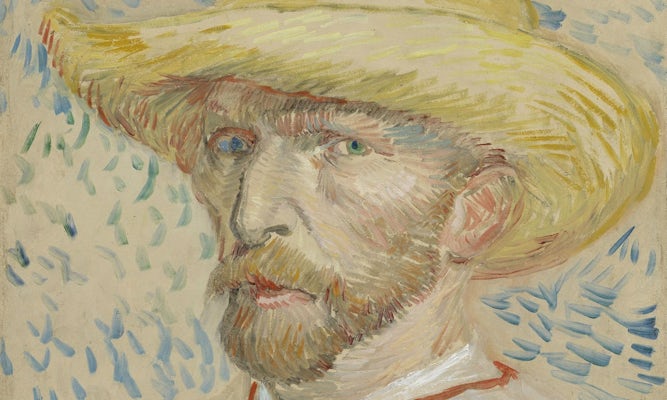 Información básica
Qué te espera
Precio reducido
Lugar de encuentro
Opiniones
¿Tienes preguntas?
Van Gogh Museum skip-the-line tickets
Basado en 3966 valoraciones
Duración:
a day
Copia digital/impresa
INSTANT CONFIRMATION
SKIP THE LINE
Ventajas
Save time: skip the long lines with instant entry to the museum
Book the time slot of your choice now and plan the rest of your day carefree
Just show the ticket on your phone and come in to enjoy the richest Van Gogh collection in the world
Only on weekends: join our guided tour of the Van Gogh museum and dig deeper into the artist's life
Qué te espera
Discover the world's largest collection of Van Gogh masterpieces. The exhibits are arranged chronologically so you can follow the artist's biography and technical development.
As well as early and lesser-known works, you'll see some of his most famous paintings such as Vincent's Bedroom in Arles, Gauguin's Chair and a painting from the Sunflower series.
The building itself is an impressive feat of architecture, as you'll notice when you experience the spectacular glass entrance on Museumplein.
23 March - 24 June, Van Gogh & Japan
See how Japanese art influenced the work of Vincent van Gogh. In this exhibition you have the unique chance to explore many of Van Gogh's paintings and drawings alongside a varied selection of Japanese prints. Find out how Japanese art dramatically changed Van Gogh's work. One of the highlights is Self-portrait, 1888 (Fogg Art Museum, Harvard Art Museums, Cambridge, USA), in which Van Gogh depicts himself as a Japanese Buddhist monk.
5 October 2018 - 13 January 2019, Gauguin & Laval on Martinique
See the first exhibition dedicated to the influential period in the careers of Gauguin and Laval. Explore artwork from the two French artists who escaped the fashionable Parisian life and travelled to the distant Caribbean island of Martinique in search of unspoiled and inspiring surroundings. Find out why Vincent van Gogh was wildly enthusiastic about the paintings that Gauguin had produced on Martinique.
Incluye
Timed entry ticket to the Van Gogh Museum
Admission to temporary exhibitions
Precio reducido
Standard price applies to adults 18 years old and over
A reservation for children 17 years old and under is obligatory even though they have no entrance fee
Dónde
Van Gogh Museum, Museumplein 6, 1071 DJ Amsterdam, Netherlands
Lugar de encuentro:
Go directly to the museum entrance with your voucher.
Importante
Wheelchairs and strollers/prams are available to visitors for no extra fee
Tickets cannot be modified or refunded after purchase
You can book tickets up to 60 days in advance
During peak seasons and times, you might encounter a line at the entrance. Don't cut off your ear in frustration – you'll get in sooner than you think
¿Cuándo?
In 2018 the Van Gogh Museum is open
8 January - 22 March: 9.00am to 5.00pm, Fridays 9.00am to 9.00pm
23 March - 24 June: 9.00am to 7.00pm, Fridays 9.00am to 9.00pm
25 June - 2 September: 9.00am to 7.00pm, Fridays and Saturdays 9.00am to 9.00pm
3 September - 4 November: 9.00am to 6.00pm, Fridays 9.00am to 9.00pm
5 November - 23 December: 9.00am to 5.00pm, Fridays 9.00am to 9.00pm
24 December 2018 - 6 January 2019: 9.00am to 7.00pm, Fridays 9.00am to 9.00pm (1 January: open from 11.00am)
Organizado por
Van Gogh Museum - Amsterdam
Cargo por reserva
Lo sabemos. Los cargos extras no le gustan a nadie. Pero no solo cubren el coste de gestionar tu reserva, sino que nos permiten ofrecerte un servicio de atención al cliente 24/7 y una aplicación gratuíta con la que puedes tener acceso a tus entradas y descubrir lugares interesantes en la ciudad.
La opinión de otros usuarios sobre esta experiencia
Basado en 3966 valoraciones
También puede interesarte