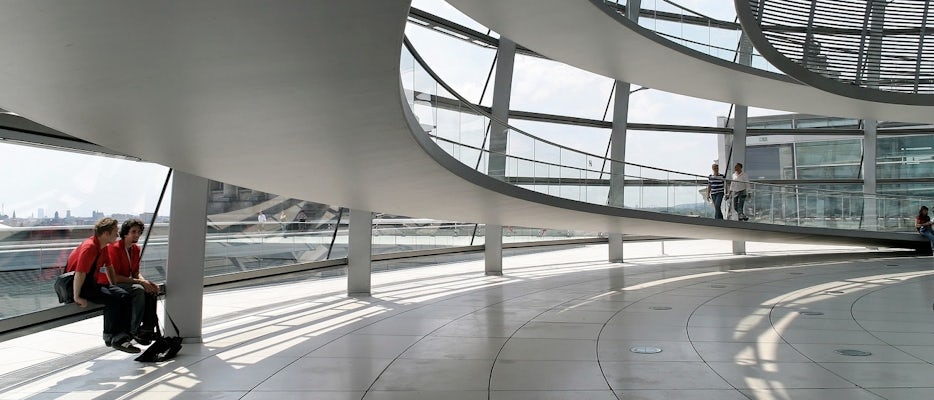 Информация
Программа
Льготная цена
Место встречи
Отзывы
Задать вопрос
Reichstag Tour in German with Plenary Hall and Glass Dome
Доступность:
Seasonal offerings
Продолжительность:
Разное
Язык:
German
Билет для смартфона
Выбор покупателей
Visit the German Bundestag with a tour in German
See the plenary hall and listen to a speech
Learn many intriguing historical and political facts
Get access to the glass dome with a great panorama
Программа
Visit the political heart of the German capital. This look behind the scenes of the Reichstag enables you to get to know the work of the 630 members of the German Bundestag, their working conditions and the logistics behind them - politics in the context of the Reichstag requires a lot of organization. Then, you will visit the most visited parliament building in the world. Who would have thought that the Reichstag had a controversial reputation in Germany and abroad before 1999!
Since 1894, the Reichstag building has been the seat of the national parliament of Germany. The parliament, the old Reichstag, initially had very limited powers. Only after 1919 can we speak of a real parliament. On the tour you can also see the place where democracy ended with the Reichstag fire of 1933. Find out more about the fate of the building after 1945 and about the reincarnation following the moving decision of the Bundestag of 1991.
Please note that the visit of the Reichstag requires confirmation by the German Bundestag. For the registration of the participants we absolutely require: name, first name and date of birth.
It may happen that activities and tours are canceled or postponed by the Bundestag at short notice. For this reason, a mobile telephone number is required by the participants.
Входит в стоимость
Guided tour through the Reichstag building and government district in German
Entrance to the Reichstag passing through a security check
Visit of the plenary hall, commentary from the state-run visitor's service
Access and visit to the rooftop
Льготная цена
Children up to 13 years: reduced
Где
Unter den Linden 77, Berlin
Место встречи:
At the Adlon Hotel, close to Pariser Platz, the square where you find the Brandenburg Gate, in front of the Jueweelry "Leicht", at the corner with the British embassy.
Важно помнить
Please enter your first name, surname and date of birth when making your booking. Without this data, no registration can take place in the Reichstag building. This must be done in advance of the tour
Please bring a valid passport with you to your visit
Когда
Please check calendar for current seasonal offerings
January 2018: Tuesday
At 10.50am and/or 2.50pm (according to the availably)
сервисный сбор
Хорошие новости! К этому бронированию не добавляется никакая экстра-стоимость.
Что говорят наши путешественники