Bangkok National Museum is a treasure trove of Thai art, history and culture. And with a guided tour, you won't miss a thing. Housed in the grand surrounds of a former royal palace, three exhibit spaces showcase centuries-old sculptures, statues and religious relics including the Ram Khamhaeng Inscription – one of Thailand's most prized artefacts.
Duration
from 2 hours to 4 hours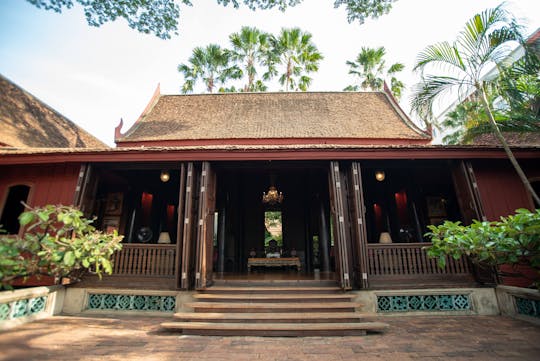 Start programme with visit Jim Thompson's Thai House, an American businessman who helped revitalise the Thai silk industry in the 1950s and 1960s. At the time of his disappearance he was one of the most famous Americans living in Asia. Time magazine claimed he "almost single-handedly saved Thailand's vital silk industry from extinction".Next we will go to BAC Bangkok Art Centre where art, music, theatre, film, design and cultural/educational events take place in its exhibition and performance spaces. The centre includes cafes, commercial art galleries, bookshops, craft shops, and an art library. It is intended as a venue for cultural exchange, giving Bangkok an operational base on the international art scene.Afterward we will journey by Boat at Klong Saen Saap to visit Golden Mount Temple The Wat Saket was used to cremate the deceased who were too poor to afford a funeral or cremation. When an epidemic hit Bangkok during the reign of King Rama II, the remains of tens of thousands of poor people were brought here to be cremated. The structure that Wat Saket is best known for is its 80-metre-high hill called 'Golden Mount' and the huge gilded stupa on top of it.
Duration
from 2 hours to 4 hours
Popular experiences in Bangkok