Guided tours of the Tower of Gold
Climb the Tower of Gold on your next trip to Seville. Check out all the guided tours of the neighborhood on Musement today and don't miss out on the s...
Find experiences for these dates: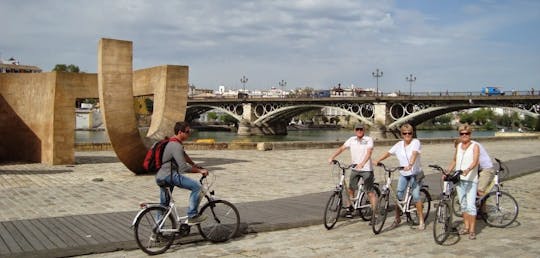 There is no better way to experience Seville than riding through the cities many renowned bike lanes. With many fascinating sights to see an...
Duration
3 hours
Available in: English
Top attractions in Seville
Top attractions in Seville
The inside story
Seville's Tower of Gold (Torre del Oro), undoubtedly one of the most iconic landmarks of the city, has guarded Seville since its construction in the 13th century. Built as a watchtower in the Almohad dynasty, through the centuries, the Tower of Gold has been used as a chapel, a prison, a lookout point and a gunpowder store. Climbing the tower is a must-do activity for any visit to Seville. From the top, you can look out for a spectacular view of the river and of the Triana neighborhood. Getting its name from the golden hue its high walls project on the river below, make sure to take a stroll around the base of the tower after you climb to the top!
Read more
How to get there
Tower of Gold
Paseo de Cristóbal Colón, s/n, 41001 Sevilla, Spain
Seville