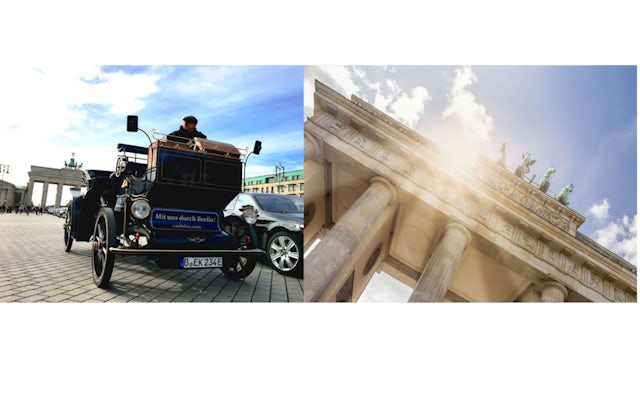 Aperçu
Ce qui vous attend
Lieu de rendez-vous
Avis
Poser une question
Everything Berlin: From history to politics tour
Disponibilités:
Monday-Sunday
Durée:
2 hours
Billet imprimé obligatoire
Points forts
Go on a 360 tour of Berlin's midtown, the historical district and the political center
Listen to historical stories of significance that set the foundation for modern-day Berlin
Ce qui vous attend
A crash course for Berlin beginners with all important sightseeing places. The tour includes:
The Neue Nationalgalerie at the Kulturforum Berlin, a museum with exhibit artwork of the 20th century. Opened in 1968, the museum designed by Ludwig Mies van der Rohe, is considered to be an icon of modern architecture.
A journey to Museum Island, which is located in the historic center of Berlin, that has been the only cultural and architectural ensemble that is considered part of UNESCO World Heritage.
Its history, however, has been very diverse. Having been swampland in the Middle Ages, it was used for several purposes in the following centuries: Friedrich I had the so-called Pomeranzenhof built at this place, a gallery for tropical fruits and exotic plants. Under Friedrich Wilhelm I the orangerie was used as a warehouse and salt storage. It was not until 1830 that the first Prussian public museum which was open to the public had been built here. Today, it is known as Old Museum.
Gendarmenmarkt is said to be the "most beautiful place in Berlin". It is surrounded by three monuments: Deutscher Dom (German Church), Französischer Dom (French Church) and Konzerthaus. It had several names in the course of time, including Lindenmarkt, Friedrichstädtischer Markt and Neuer Markt, until it was named Gendarmenmarkt in 1799. It was given this name because the guard regiment, Gens d'armes, had been located here from 1736 until 1782.
Siegessäule (Victory Column): The national monument with "Victoria" on top – nicknamed "Goldelse" by the citizens of Berlin – was inaugurated in 1873. Originally, it was located in front of the Reichstag. Since it did not fit in the ideas of Nazi city planners, it was relocated in Tiergarten's main roundabout in 1938. Other sites include:
Bundeskanzleramt: The largest government building of the world at present.
Reichstag: Present seat of the German Parliament, was in a state of hibernation during German separation.
Brandenburg Gate: The symbol of German reunification.
Holocaust Memorial: 2711 rectangular blocks on 13,100 square meters are dedicated to the Jewish victims of the Nazi genocide of World War II.
Potsdamer Platz: In the 1920s, the busiest place in Europe, complete wasteland during German separation and now having been re-transformed into a modern metropolis center within ten years.
Alexanderplatz with World Time Clock and the so-called Alex – the central place of East Berlin during German separation.
Où
Unter den Linden 77, 10117 Berlin, Germany
Lieu de rendez-vous:
Please meet your guide at Brandenburg Gate, Pariser Platz in front of the Hotel Adlon.
Quand
Daily from 10.00am-8.00pm
Please see calendar for possible dates/times
Tour opérateur
Louis Carrosse GbR
Frais de service
Bonne nouvelle! Aucun frais supplémentaire n'est appliqué à cette réservation.
Ceci pourrait également vous plaire